UL Listed Bolt Together Wire Basket Cable Tray
Company Profile:
Wiremaid Products manufactures the Cable-Mgr. cable trays. These wire basket trays are innovative, cost-effective products that easily adapt to the most difficult installations. The award-winning PRO-10 and M.E. 2 products were developed with the architect, engineer and installer in mind. Wiremaid products are made in the U.S.A., shortening lead and delivery times.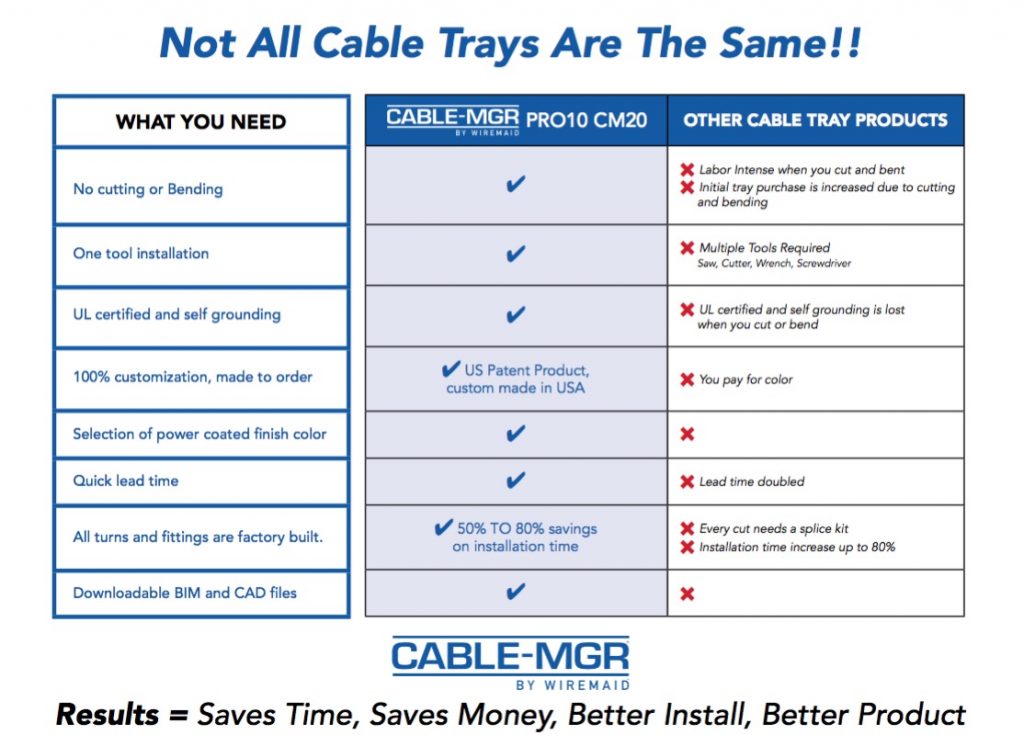 SAFETY FIRST
PRO-10 by Wiremaid offers the most complete line of factory made UL Classified fittings for a 100% UL Classified and NEC Compliant Wire Basket Cable Tray System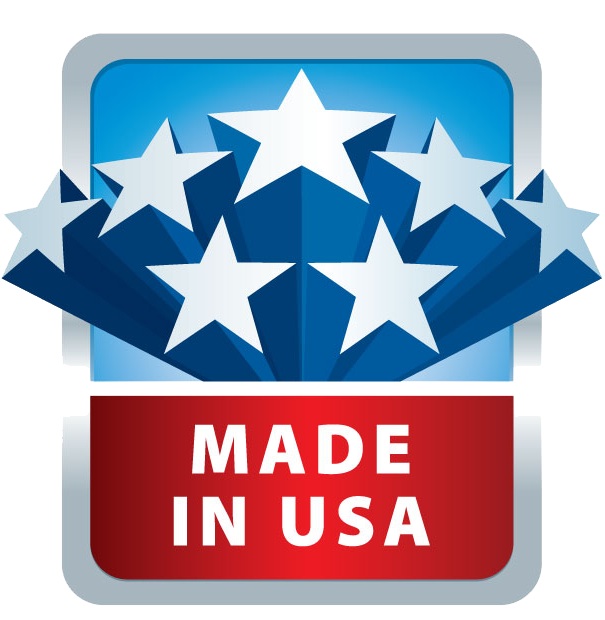 SEE THE PRO-10 VIDEO
Why Use CABLE MGR?
SAVE TIME & MONEY
NO CUT, BEND & BLEED
There's a BIG difference in wire mesh cable trays. Other brands can't equal CABLE MGR's PRO-10 benefits and unique design.
Stronger Construction – CABLE MGR is made from large gauge wire, 4.5mm or greater, with an extra side wire giving stronger, more robust load capabilities and ALL sizes are UL Classified.
Built-In splice/ground loops – we've removed the finish for a fast and simple connection.
Made in the USA – CABLE MGR is made in the USA by a USA owned company, (Most other brands are European manufactured/owned, and are not made by domestic workers)
All tray sizes offered UL listed – CABLE MGR has all sizes listed allowing you to meet UL grounding requirements (other brands have less than 6/many have none). Dependent on the splicing method, most of the other brands require the additional materials and labor of a ground bolt, attached to each individual tray section, and connected by a minimum 6 awg ground wire that runs the length of the tray installation.
Warranty available – CABLE MGR has a standard 3 year warranty
Wide Range of Sizes & Colors Available – CABLE MGR offers depths of 2" -4"- 6" and widths of 4" – 36" (other brands have fewer), and in a standard powder coat finish of yellow, red, chrome, black, and orange.
Custom tray and accessories – give us your specs and we'll make your tray to suit. Try to get THAT from other tray manufacturers.
PRO10 SERIES
PRO-10's wire grid cable tray systems require only one tool and very few accessory items for installation. Pre-fabricated junctions/intersections reduce man-hours by eliminating cutting and fabrication in the field. With center hung trapeze, wall or floor mount accessories, PRO-10 is prepared to handle the toughest installations.
YOU ONLY NEED ONE TOOL!
SIMPLE DESIGN AND BUILD
M.E. 2 Series
The M.E.2 wire cable tray is easy to install and efficiently provides cable management and protection for cables. The cable tray straight and junction sections are easily joined together using installer friendly splice washers, or time saving splice connection loops. Straight trays can be cut to shorter lengths using an off-set blade bolt cutter tool. Vertical and horizontal bends are easily made at the installation site by cutting and removing wires. It is suggested that a cable tray run be started at a junction location, and extend outward.