Draka/Prysmian Group-Lifeline Cables
Lifeline® products are manufactured with ceramification technology to produce fire resistive cables qualified to the most demanding standards. This results in the best and most economical method of protecting critical circuits against attack by fire and physical damage during evacuation and crisis resolution.
Applications
Lifeline® Cables can be used in the following applications to provide survivability during a fire:
Fire Pumps
Emergency Feeder Cables – Ventilating Fans
Exit Lighting
Elevators
Tall Buildings
Hospitals
Transit
Oil Refineries
Drilling Platforms
Lifeline Cables Save 3-4 Times of the installed cost of Mineral Insulated Cables
Lifeline® Cables are preferred over Mineral Insulated (MI) cables, concrete encasement or the construction of fire rated assemblies based on the facts that Lifeline® Cables are less costly, easier to install, and readily available.
Fire resistive cables are required per NFPA 70, Articles 517, 695, 700, 708 and 760 as well as NFPA 72, NFPA 101, NFPA 130 and NFPA 502.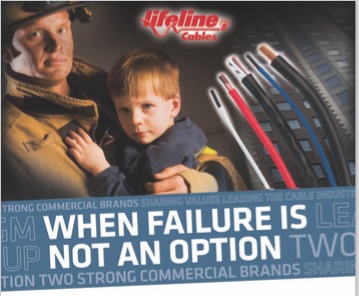 Lifeline® Power Cables: RHW-2 or RW90 Two-Hour Horizontal, One-Hour Vertical Fire Resistive Cables in EMT
UL 2196 Certified Fire Resistive Cable for Survivability in a Fire

Lifeline® Power Cables: RHW-2 or RW90 Two-Hour Horizontal, Vertical Fire Resistive & Cables in XW Breathsaver Phenolic Conduit
UL 2196 Certified Fire Resistive Cable for Survivability in a Fire

Lifeline® MC: Two-Hour Fire Resistive Cables, Multi-Conductor
UL 2196 Certified Fire Resistive Cable for Survivability in a Fire
Lifeline® MC: Two-Hour Fire Resistive Cables, Single-Conductor
UL 2196 Certified Fire Resistive Cable for Survivability in a Fire