One Source for End-To-End Fiber Solutions
Fiber Optic Cable and Components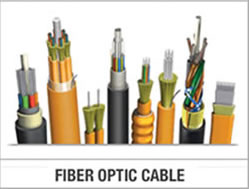 AFL Telecommunications is an industry leader in providing fiber optic products and engineering expertise to the telecommunications industry.
They manufacture and engineer the fiber optic products and equipment for customers who require high-speed voice, video and data services. AFL's extensive experience in both design and application crosses all markets, from Telco, Broadband and Wireless, to Electric Utility, OEM, Enterprise and Private Networks.
If you need to build a network, upgrade your broadband system, expand a central office or connect a campus through fiber optics, AFL can help. AFL Telecommunications has real-world solutions to fit your every need.
PRODUCT SPOTLIGHT 
FAA-Compliant Loose Tube Cable-Double Jacket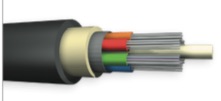 The AFL family of FAA-compliant fiber optic loose tube cables is specifically designed
for airport and related installations that must comply with meet U.S. Department of Transportation Federal Aviation Administration (FAA) requirements. AFL FAA-compliant loose tube cables incorporate a highly chemical resistant Polyamide jacketing system that is ideally suited for use in pathways exposed to hydrocarbon liquids, de-icing fluids, cleaning solvents, jet fuels and other outside-plant networking applications that are typical at these facilities. AFL FAA-compliant cables are available with a variety of fiber-types including; Singlemode, multimode, bend-insensitive and hybrid (SM and MM) optical fibers.
Applications
Runwaycommunication,lightingandcontrol Controltower-remotelocationnetworking Inter-terminal network connections
Pathways exposed to corrosive solutions Direct burial in suitable trenched pathways
Standards
FAA-E-2761, Type B
GR-20-CORE
TIA/EIA-568-B
Additional information on AFL FAA Cable
Loose Tube Cable

AFL Telecommunications offers a high-quality line of loose tube cables for lashed aerial, duct and direct buried applications. Our loose tube designs include a wide range of optical fiber types – low attenuation, superior geometry single-mode fibers such as SMF-28e™ fiber; market-leading non-zero dispersion fibers including LEAF® fiber; and multimode fibers certified for laser launch and optimized for gigabit Ethernet applications. Our expert product engineering team can custom design your system with higher pulling tensions, special jacketing, or smaller diameters to fit your applications.
Premise Cable

AFL's Inside-Plant Fiber Optic cable offers one of the broadest product portfolios in the industry. Premise cabling forms the backbone of high-tech networks installed in applications ranging from the Local Area Network to the most complex DataCenter environments. Flexibility of design and Industry-leading performance are the hallmarks of AFL's cable offering. Through partnerships with premier Optical Fiber manufacturing companies, AFL offers the highest performance Optical Fiber available to enable the most demanding applications.

From High-Density horizontal Trunking solutions to Light-Weight High-Performance vertical runs, AFL Inside-Plant cable provides alternatives to meet the challenge. Supportive of field installed connections or Pre-terminated solutions, AFL Inside-Plant Cable gets you connected.

RIBBON-Link Cable

QUAD-Link & Circular Premise Cable
Multi-Unit Circular Premise Cable
Breakout Cable
Interconnect Premise MicroCore Cable
Low-Smoke Zero Halogen Premise Distribution Cable
Sub-Unitized MicroCore 2.0 Cable
Armored Tight Buffered Circular Premise Cable
Sub-Unitized Premise MicroCore Cable
ADSS Cable-Aerial Self-Supporting


AFL Telecommunications' full line of All-Dielectric Self-Supporting Aerial (ADSS) Cables meet the demanding needs of transmission and distribution environments. This high-capacity cable offers great flexibility for placement on overhead transmission towers, eliminating the need for a support messenger. ADSS cables feature fiber counts up to 576, a dry core design and the high-tension strength capability required for installation in the toughest environmental and electrical conditions. Unaffected by electromagnetic fields, our ADSS cables can be installed and maintained on extra high-voltage power lines without interruption of power service to customers.
Rack Mount Splice/Patch Panels
AFL offers a complete line of rack mount solutions for all applications with in the telecommunications network. AFL's rack mount panel line brings new and innovative solutions to fiber management. Panel configurations include patch, splice, and patch and patch splice models in black and white versions.

Xpress Fiber Managment-High Density (XFM-HD) Patch Panels
Xpress Fiber Managment (XFM) Patch Panels
LS Series Rack Mounted Patch Panels
Fiber Optic Splice Trays
The LightLink™ LANSystem™ Optical Splice Shelf is designed to provide a convenient in-rack splicing and interconnection point for Outside Plant (OSP) cable entering a Central Office (CO), Controlled Environmental Vault (CEV), Headend (HE), or customer location.

In-line or butt splice capability
Pre-formed radiuses maintain bed requirements
Interlocking base and cover provides tray stability without the use of a bolt
Extended finger guides easily store and route loose fiber or ribbon
Modules and Panel Accessories
The LightLink™ Equipment Frame System (EFS) is designed to support traditional equipment and fiber management in Central Offices (CO), Headends (HE), Remote Terminals (RT) and co-locate installations. The system is completely backward compatible with the existing industry standard LGX® footprint.

Adapter Panels
Poli-Mod Patch and Splice Module
Xpress Fiber Management Optical Cassettes
Indoor Wall Mount Interconnect Enclosures 
AFL offers a complete line of wall mount solutions for all applications with in the telecommunications network.  The AFL wall mount interconnect enclosures provide a convenient convergence point for interconnecting and/or splicing in wall mount applications.

24 to 288 Fiber connection point enclosures
NEMA 3 Optical Entrance Enclosures
Fiber Splice Closures & Accessories

The AFL family of Aerial Weathertight Splice Closures is designed to provide a cost-effective solution for your aerial splicing needs. Quality engineering reduces the installation time, training and complexity associated with fiber splicing in the field. A non-toxic anti-rodent concentrate has been added into the plastic pellets used in molding. The additive will not cause harm to animals or the environment; however, it gives the plastic an unpleasant taste, deterring animals from chewing on the closures.All aerial closures have been designed to be installed without the need for special tools, heat, adhesives, drills, or any powered equipment. Durable and easy to install, these closures will improve productivity, reduce labor expenses and last the life of the plant.