The World's Largest Wire & Cable Manufacturer
Commercial & Industrial Wire  and Cable Products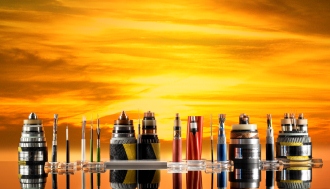 As a global solutions provider Prysmian offers a wide range of integrated solutions, such as cable systems, engineering support for system design, installation and post-sale services.  Specializing in the development of the aforementioned products and services, Prysmian's main competitive strengths include: focus on research and development, ability to innovate in terms of both products and processes, and the use of advanced proprietary technologies.
STOCK PRODUCT SPOTLIGHT
MEDIUM VOLTAGE AIRGUARD CABLES
Applications and Benefits
Prysmian's patented AIRGUARD cable is a direct replacement for continuously corrugated and welded aluminum armored cables (*in Class 1 Div 2 locations or if installed with cables rated 1000V or greater) with 5X the impact performance and 2X-3X the sidewall bearing pressure limit (@ 3000 lbs per rad-ft) This enables longer pulls than with Continuously Corrugated and Welded type cables. Please call in regards to the product literature and performance testing and videos.


Medium Voltage Cables

Prysmian manufactures a wide range of medium voltage power cables for use in utility applications. Much of the industry has now standardized on Prysmian-originated designs and compounds including EPR insulation which we developed in 1959, LC SHIELD® cables which we invented in 1973, and water-blocked cables featuring our proprietary STRANDSEAL® strand-filling compound which we developed in 1977. With our new TRIPLESEAL™ cable design, Prysmian continues to break new ground in developing fully water blocked designs with 40+ year life, all at a cost savings to our customers.

5-35kV 1 conductor EPR MV105 tape shield Power Cable
600V Cables

Prysmian manufactures many different types of low voltage cables for the Commercial & Industrial markets in both the United States and Canada. This cable is used for power feeds in large commercial or industrial facilities. We also manufacture a wide range of building wire products used for circuit wiring inside buildings.
600V Airguard Cables    
Prysmian's Low Voltage AIRGUARDTM Power Cables are primarily designed for applications in the harsh environments found in the heavy industrial and offshore markets. Its rug- ged polymeric AIRBAGTM armor and chemical barrier protec- tion package makes it the ideal cable choice for tough harsh environmental conditions. AIRGUARDTM provides the solution to the deficiencies often encountered with MC-HL cables including armor breakage encountered during installation and in applications requiring recurring bending after instal- lation, as well as poor performance in areas of high vibration (e.g. motor connections). It also provides a safer and lower installed cost alternative to MC-HL cables due to faster, "No Knife/ No Saw" cable preparation and substantially reduced cost of cable glands.
  P-SUN Photovotaic (PV)  Wire  
Prysmian's P-SUN photovotaic wire is a high  performance low voltage wire for solar applications.  The wire is a single conductor with 2kV, cross-linked polyethylene (XLPE) insulation that is RoHS compliant.   
P-CONNECT Photovotaic (PV) Harnesses                                                                                                                  
Prysmian's P-CONNECT System includes whips, harnesses and home runs. Harnesses are comprised of PV rated cable with over-moldings and fuses (2 to 30 amp) that include eyelets for easy mounting and installation. Sonic welded conductor splices ensure maximum reliability and quality. Cable sizes can range from #8 AWG to #12 AWG or combinations of these sizes in a harness. Harnesses utilizing over-mold splices will minimize excess cable usage while providing a clean and simple installation.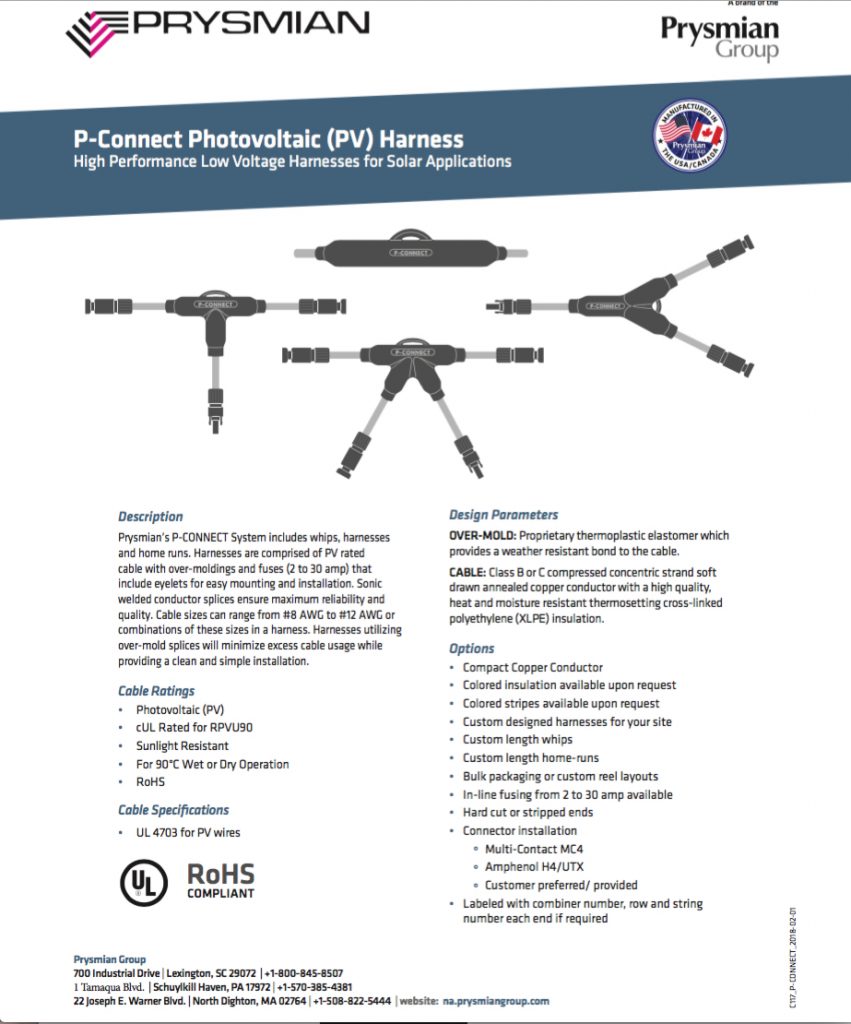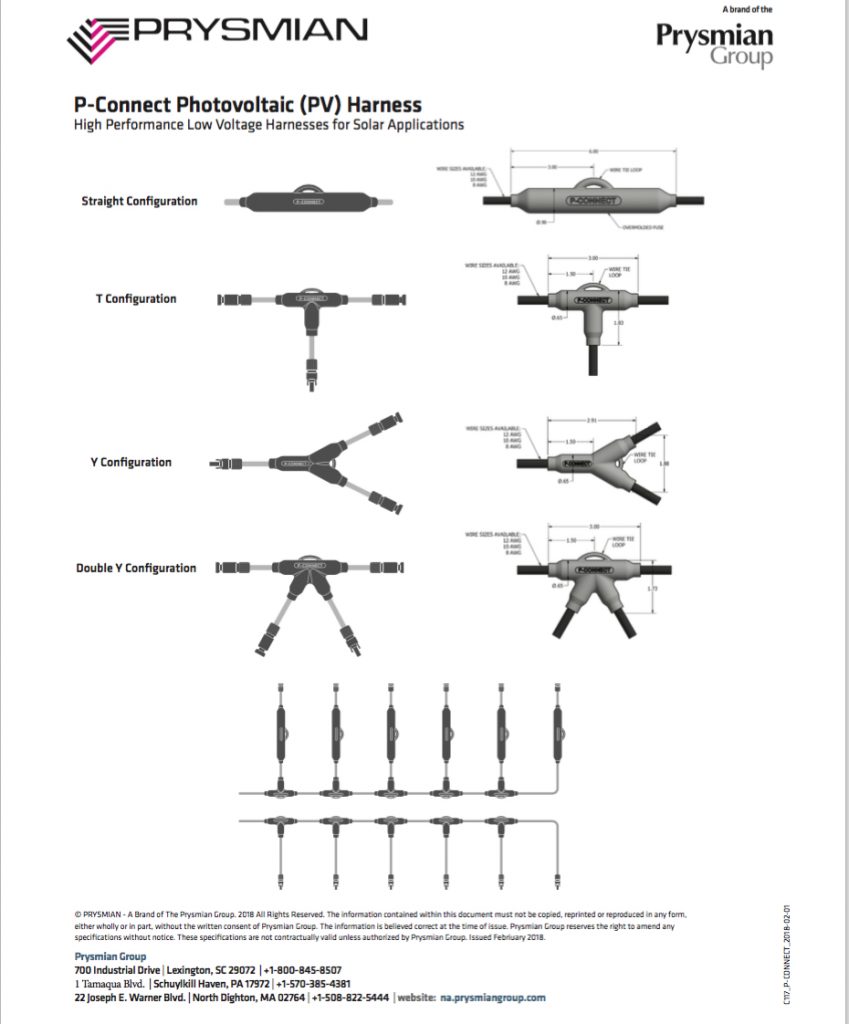 Medium Voltage Airguard Cables

Prysmian's patented AIRGUARD cable is a replacement for continously corrugated and welded (CCW) armored cable with the benefit of improved impact performance (5X CCW) and improved sidewall bearing pressure of (2X-3X CCW). This enables the customer to pull the cable for longer distances than traditional metallic armored cable products. Airguard cables are also suitable for installation in -30°C temperatures.
Additional information on Prysmian Airguard Cable Products
 Airguard XP Heavy Duty Fiber Optic Cable
AIRGUARD® XP combines world-class mechanical protec- tion, chemical protection, and user friendliness into a family of robust industrial optical fiber cables.
AIRGUARD® XP goes head to head with interlocking armor cables in the areas of impact and crush resistance. Because interlock armor contains metallic armoring, they are stiff , heavy, and require grounding. A severe impact or crush may cause permanent deformation to the metallic armor. The AIRGUARD® XP, all-dielectric versions, over- come these un-desirable factors and can be installed in trays/ladders along with copper communications or power conducting cables, thus providing greater flexibility & user friendliness.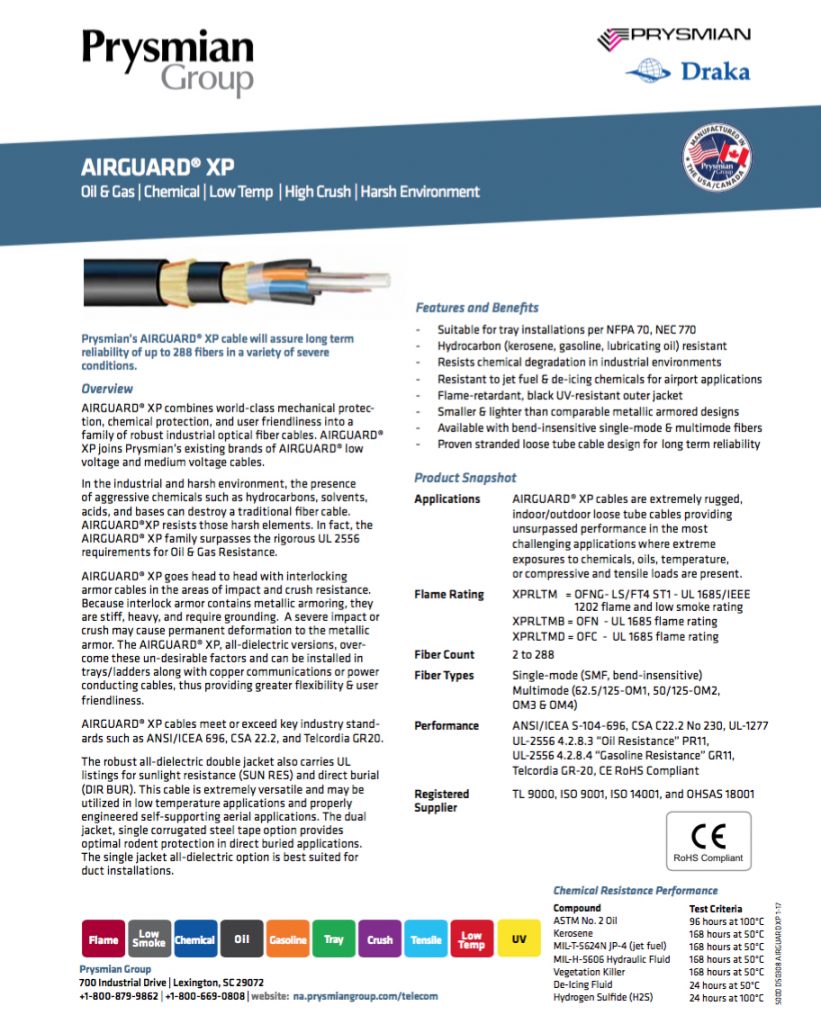 Medium Voltage Transition Splices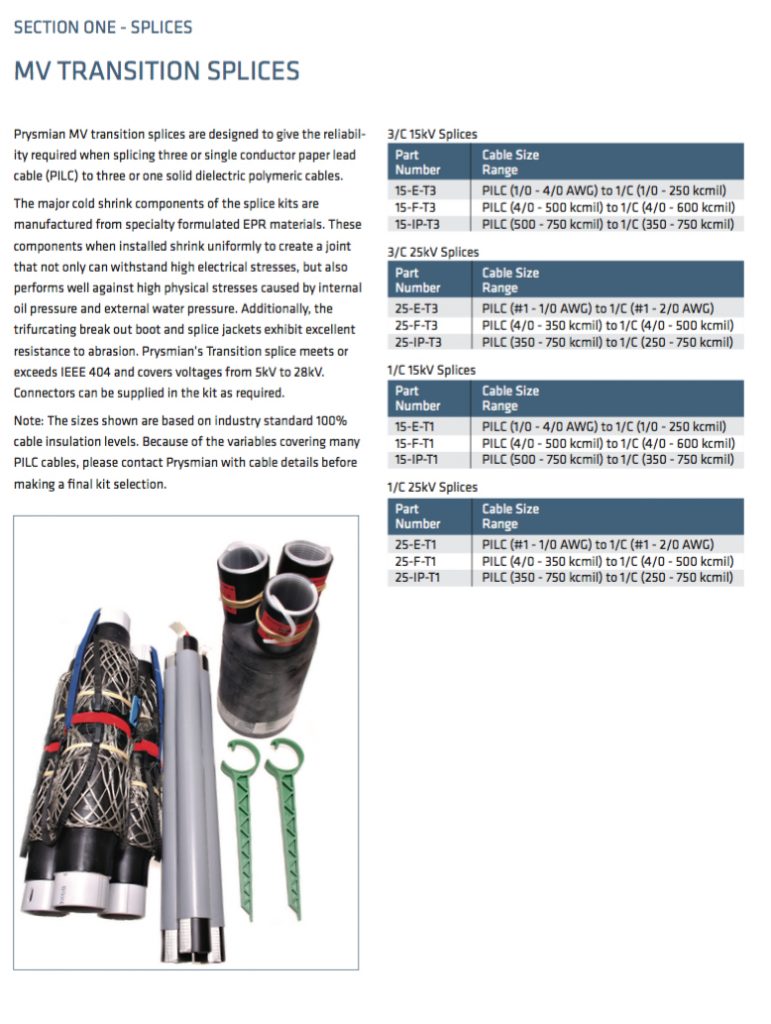 200A Loadbreak Elbows
(15kV/25kV/35kV)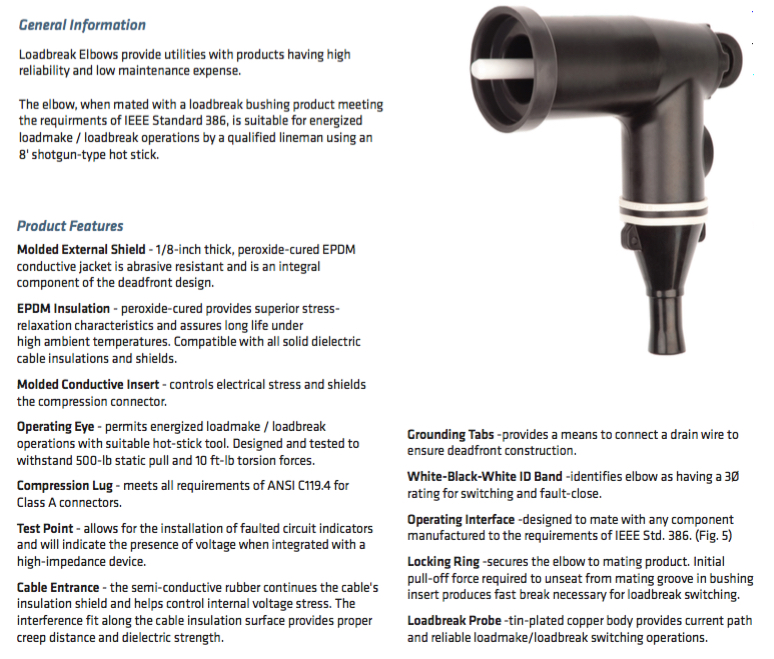 600A Deadbreak Series
(15kV/25kV)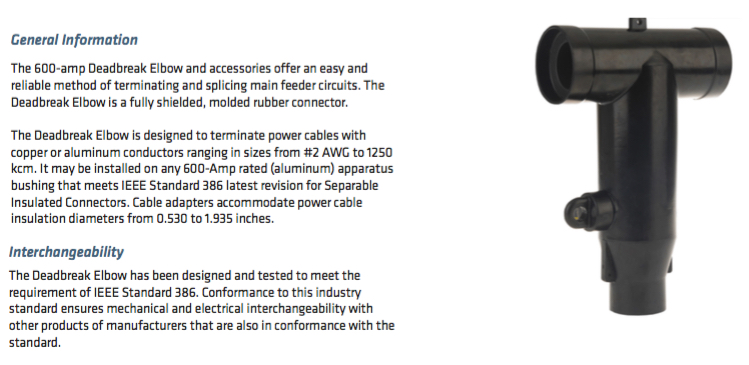 Shearbolt Connectors
Fast Reliable Medium Voltage Connectors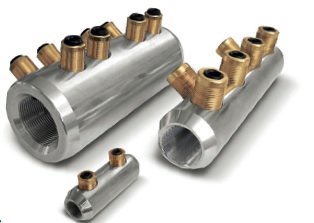 Prysmian Mechanical Shearbolt Connectors are designed to cover a wide range of conductor sizes from 6 AWG to 1250 kcmil, with only five connectors. Individual sizes cover ranges from 6 AWG-3/0; 2 AWG–250 kcmil; 1/0 AWG –500 kcmil; 350–750 kcmil; and 750–1250 kcmil. The unique stepless Shearbolt design has no predetermined breaking points in the connector thread. Bolts always break flush with the surface of the connector body. The design provides excellent performance and features not found in other mechanical connectors. They meet ANSI C119.4 and withstand the 40% pull out force (ANSI Class 2) required by IEEE-404. No compression dies or mechanical crimp tooling are required for installation. Following cable preparation, simply slide the connector over the conductor and tighten the bolts until they shear off. Prysmian Mechanical Shearbolt Connectors are dual-rated (AL/CU) and tin-plated to resist corrosion. Compatible with the full line of Prysmian ElaspeedTM cold-applied splice kits, they offer the best medium voltage cable splicing solution. Ratings • ANSI C119.4-2004 • ANSI Class 2 (40% RBS) • Dual-Rated (AL/CU) Electrical Property • Current Cycle Test – Class A @ 284oF (140oC) Conductor • Mechanical Pullout Test -Class 2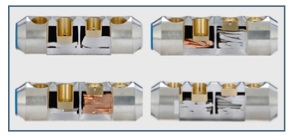 Stepless Technology
The stepless Shearbolt has no pre-set shear points in the threads and makes use of the maximum number of bolt threads possible to apply a compressive force to the conductor. The stepless technology ensures that the bolt will shear off below the surface of the connector, eliminating the need for filing sharp metal edges.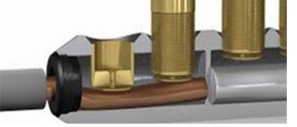 Friction Disc
As the bolt is tightened, the friction disc at the base of the bolt makes contact with the conductor and no longer rotates. The bolt rotates freely above the friction disc without putting torque on the conductor. This allows the shearbolt to apply the optimum amount of contact force without damaging even finely stranded conductors.
Pre-Attached Single-Use Cable Pulling Lugs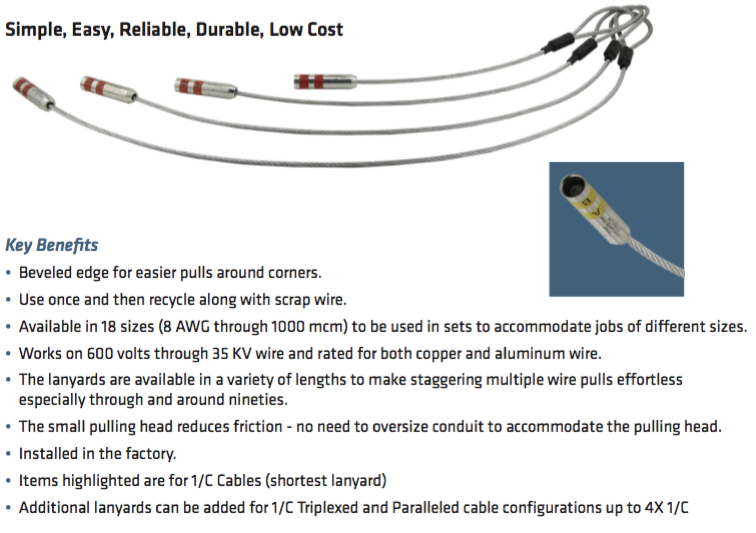 MEDIUM VOLTAGE TOOLS
Jacket & Insulation Removal Tool #2awg -500MCM
The MF2/40 enables the user to :
Remove the outer sheath (PE-PVC-PR) with a straight and neat cut
Set the length and remove thicker insulation with a straight and neat cut
Tuning of the pitch of the tool
Embeded wear pads to protect the tool from the contact with the outer sheath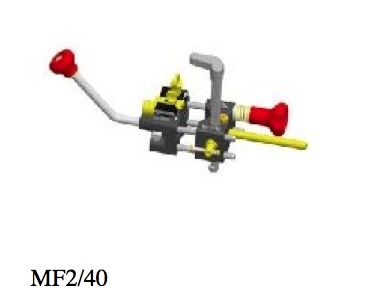 Semicon Scoring Tool #2awg-500MCM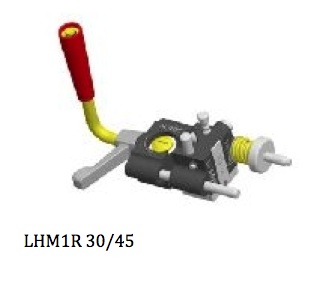 Semicon Lifting Tool