The World's Largest Wire & Cable Manufacturer
Utility Wire and Cable Products
As a global solutions provider Prysmian offers a wide range of integrated solutions, such as cable systems, engineering support for system design, installation and post-sale services. Specializing in the development of the aforementioned products and services, Prysmian's main competitive strengths include: focus on research and development, ability to innovate in terms of both products and processes, and the use of advanced proprietary technologies.
Medium Voltage Accessories
Prysmian offers a wide range of splices, terminations, load breaks, dead breaks and accessories in North America. These include a complete cold-shrink splice, a cold-shrink termination, and a connector for use on our LC Shield® Cables.
Prysmian Elaspeed – The Sub 8 Minute Splice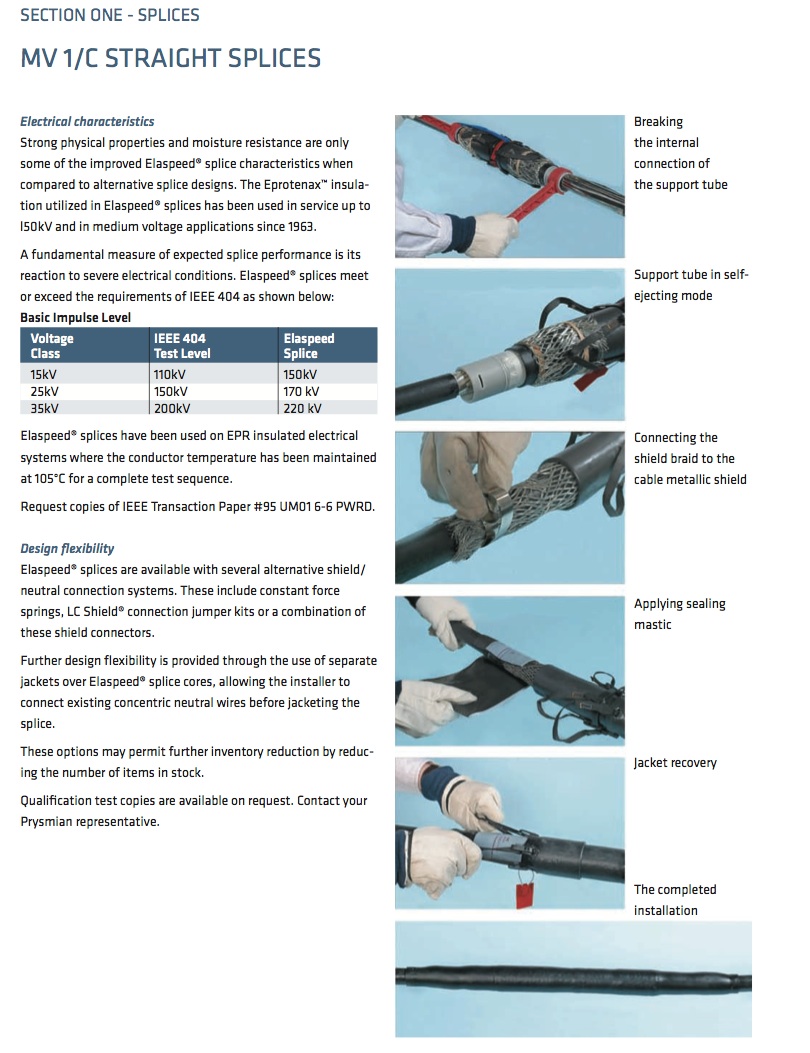 Medium Voltage Transition Splices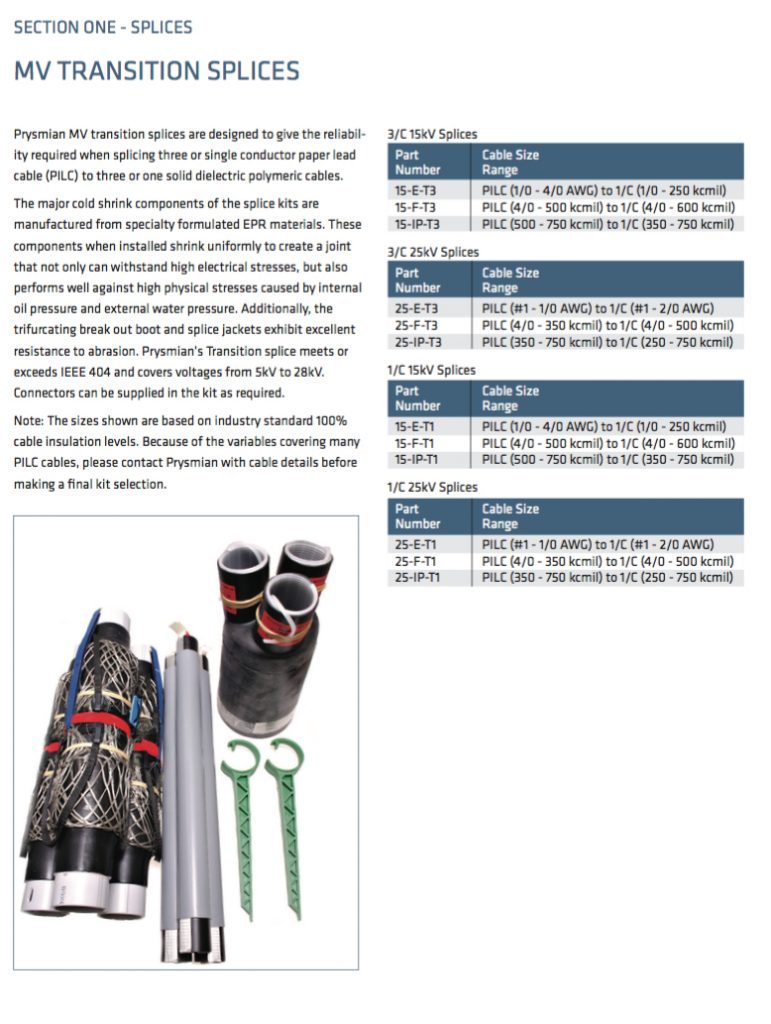 Shearbolt Connectors
Fast Reliable Medium Voltage Connectors
Prysmian Mechanical Shearbolt Connectors are designed to cover a wide range of conductor sizes from 6 AWG to 1250 kcmil, with only five connectors. Individual sizes cover ranges from 6 AWG-3/0; 2 AWG–250 kcmil; 1/0 AWG –500 kcmil; 350–750 kcmil; and 750–1250 kcmil. The unique stepless Shearbolt design has no predetermined breaking points in the connector thread. Bolts always break flush with the surface of the connector body. The design provides excellent performance and features not found in other mechanical connectors. They meet ANSI C119.4 and withstand the 40% pull out force (ANSI Class 2) required by IEEE-404. No compression dies or mechanical crimp tooling are required for installation. Following cable preparation, simply slide the connector over the conductor and tighten the bolts until they shear off. Prysmian Mechanical Shearbolt Connectors are dual-rated (AL/CU) and tin-plated to resist corrosion. Compatible with the full line of Prysmian ElaspeedTM cold-applied splice kits, they offer the best medium voltage cable splicing solution. Ratings • ANSI C119.4-2004 • ANSI Class 2 (40% RBS) • Dual-Rated (AL/CU) Electrical Property • Current Cycle Test – Class A @ 284oF (140oC) Conductor • Mechanical Pullout Test – Class 2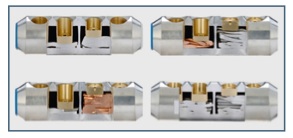 Stepless Technology
The stepless Shearbolt has no pre-set shear points in the threads and makes use of the maximum number of bolt threads possible to apply a compressive force to the conductor. The stepless technology ensures that the bolt will shear off below the surface of the connector, eliminating the need for filing sharp metal edges.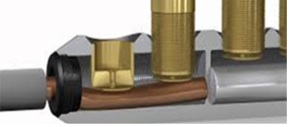 Friction Disc
As the bolt is tightened, the friction disc at the base of the bolt makes contact with the conductor and no longer rotates. The bolt rotates freely above the friction disc without putting torque on the conductor. This allows the shearbolt to apply the optimum amount of contact force without damaging even finely stranded conductors.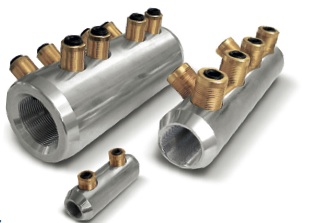 Pre-Attached Single-Use Cable Pulling Lugs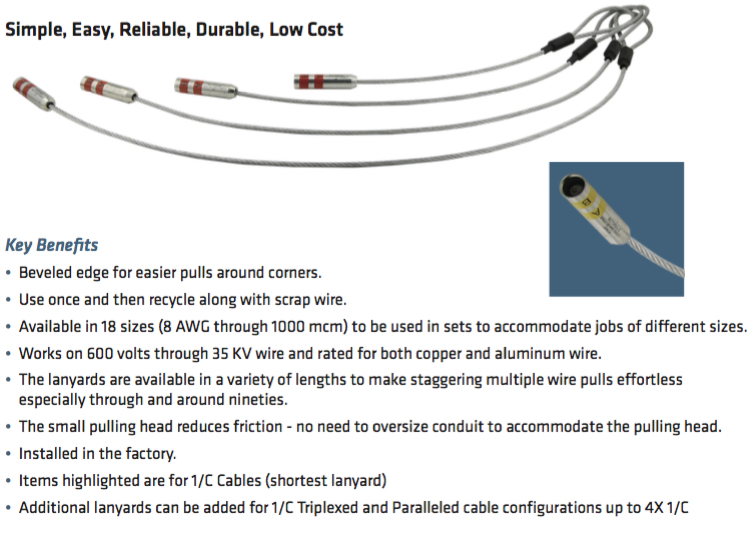 Medium Voltage Tools
Jacket & Insulation Removal Tool #2awg -500MCM
The MF2/40 enables the user to :
Remove the outer sheath (PE-PVC-PR) with a straight and neat cut
Set the length and remove thicker insulation with a straight and neat cut
Tuning of the pitch of the tool
Embeded wear pads to protect the tool from the contact with the outer sheath
Semicon Scoring Tool #2awg-500MCM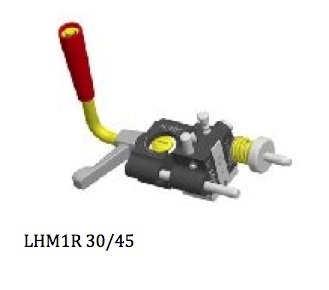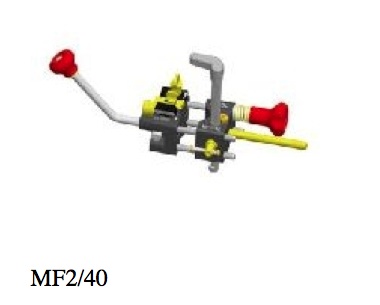 Semicon Lifting Tool